Doubleplay Bella's Time to Reign "Bella"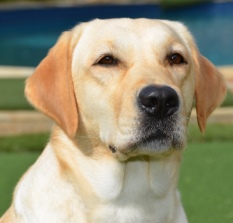 Bella  is daughter of Int'l CH Prestigious Beau HaKelev and Doubleplay Brooks Gale Force Zephyr "Chamois"  and granddaughter of CH Langshott Gale Force From Kimvalley "Garry" and SHR Mandigo's Covey'd up at Doubleplay JH .
She's great-granddaughter of Eng. CH Sandylands Gad-About and HRCH Doubleplay's Legacy Reign JH.
She consistently produces outstanding service dogs and companion dogs.
SireInt'l CH Prestigious Beau HaKelev, CGC
Sire  Doubleplay's Moonlite Magic
Sire  HRCH Doubleplay Legacy's Reign, JH, CGC
**Champion pointed 9 points** with 2 Senior Hunter passes
Sire  Canadian Am. Intl. CH Balcroft Silonas Time to Reign
Dam  HRCH Legacy's Sure Fire Cajun Pepper, CGC
***3 Master Hunter Passes
Dam  Drummond Loch Doubleplay Honor
Sire  HR & CH Mandigo's Doubleplay Millennium JH
Dam  International CH Drummond Loch Abbey
Dam  Mandigo's Sweet Cotton Candy
Sire  Mandigo's Special Edition
Sire  Goldrush Rio Bravo Mandigo
Dam  Mandigo Drummond Loch Enigma
Dam  Mandigo's Sadie of Chadwick
Sire  Mandigo's Silent Legacy
am  Mandigo Drummond Loch Enigma
Dam  Doubleplay Brooks Gale Force Zephyr "Chamois"
Sire  CH Langshott Gale Force From Kimvalley "Garry"
Sire  Eng. CH Sandylands Gad-About
Sire  Eng. CH Sandylands My Guy
Dam  Eng. CH Sandylands Bliss
Dam  Kimvalley Follow on to Langshott
Sire  Newinn Oak Leaf at Kimvalley
Dam  Kimvalley Last Fling
Dam  SHR Mandigo's Covey'd up at Doubleplay JH
Sire  HRCH Doubleplay's Legacy Reign, JH CGC
Sire  CH Balcroft Canadian. Am. Intl. CH Balcroft's Silonas Time to Reign
Dam  HRCH Legacy's Sure Fire Cajun Pepper, CGC ***3 Master Hunter Passes
Dam  Mandigo's Millenium Miracle
**Dam of 2 HRCH's, 1 Junior Hunter & Offspring with 1 Grand pass and multiple Master Hunter Passes.
Sire  Am.CH & HRCH Fairview Panache by Mandigo JH, 1 Master Hunter Pass
Dam  Charisma's Mandigo Annie Lou