Brooks Double Lacy Mandigo
"Lacy" is daughter of Int'l CH Doubleplay's Cadence HaKelev "Cadence"  and HaDassah Nashette of Mandigo.
She's a granddaughter of HRCH Doubleplay Legacy's Reign "Bond" JH, CGC  and Am.CH & HRCH Fairview Panache by Mandigo, and great-granddaughter of Canadian/Am/International CH Balcroft Silonas Time to Reign, 3xGRHRCH Legacy's Atchafalaya Nightmare JH, and BISS. Ch. Am. Can. Mex. '78 World & Int. Ch. Franklin's Golden Mandigo CD AWC "Mandigo" (through 25-year frozen semen).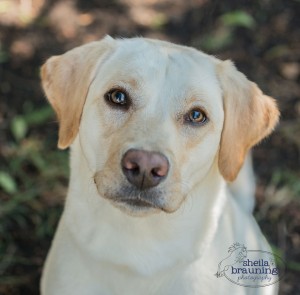 Pedigree for Brooks Double Lacy Mandigo
Labrador Retriever
Brooks Labradors LLC
Sire
Int'l CH Doubleplay's Cadence HaKelev
Sire
Sire HRCH Doubleplay Legacy's Reign "Bond," JH, CGC **Champion pointed 9 points & 2 Senior Passes***
Sire
Canadian Am. Intl. CH Balcroft Silonas Time to Reign
Sire
CH Borador's Carondelet Risk
Dam
Can CH Balcroft's Classic Timepiece, Can CD
Dam
HRCH Legacy's Sure Fire Cajun Pepper, CGC ***3 Master Hunter Passes
Sire
Am.CH Trini T's Cozbi Coz O'Legacy
Dam
Destiny's Cotton Cloud
Dam
Doubleplay's Brendan's Joy
Sire
3xGRHRCH Legacy's Atchafalaya Nightmare JH
Sire
CH Trini T's Cozbi Coz O'Legacy
Dam
Miss Bea V
Dam
Mandigo's Millenium Miracle**Dam of 2 HRCH's, 1 Junior Hunter & Offspring with 1 Grand pass and multiple Master Hunter
Sire
Charisma's Mandigo Annie Lou
Dam
Charisma's Mandigo Annie Lou
Dam
HaDassah Nashette of Mandigo
Sire
Am.CH & HRCH Fairview Panache by Mandigo JH, 1 Master Hunter Pass
Sire
BISS. Ch. Am. Can. Mex. '78 World & Int. Ch. Franklin's Golden Mandigo CD AWC "Mandigo"
Sire
CH Shamrock Acres Light Brigade
Dam
CH Franklin's Tally of Burywood
Dam
CH Franklin's Tally of Burywood
Sire
CH Campbellcroft's Banks JH
Dam
Fairview Kingsly Lady
Dam
Mandigo's Glory
Sire
Mandigo's Doubleplay Legacy
Sire
Grand HRCH Legacy's Atchafalaya Nightmare JH
Dam
Mandigo's Annabel's Miracle
Dam
Mandigo's Windriver Pandora
Sire
Mandigo's Henley Hofennfeffer
Dam
Mandigo's Windriver Calliope