Brooks Labradors Named Breeder of the Month appears on KLAV am 1230 Las Vegas, NV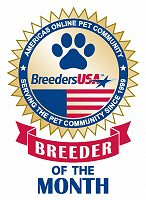 Brooks Labradors Named Breeder of the Month appears on KLAV am 1230 Las Vegas, NV
BreedersUSA Honors Dallas, Texas-area Breeder
Dallas, TX – Brent Brooks of Brooks Labradors LLC has been named December 2011 Breeder of the Month by BreedersUSA. Brent Brooks is scheduled as a guest on "Barking up the Wrong Tree" a show co-hosted by BreedersUSA's Daniel Hect and Michaelangelo on 12.2.2011.
Brooks Labradors LLC is a family-owned business that breeds top-quality Labrador retrievers in the rural Dallas, Texas, area. The company focuses on breeding what it calls "True Retrievers with a Classic Build." Brooks Labrador retrievers are known for being well-balanced companion dogs with exceptional temperaments.
Recently Brooks Labradors LLC was chosen by Southeastern Guide Dogs as a provider of puppies, because of the reputation they have earned for the quality of their dogs. Southeastern Guide Dogs is a 29-year-old organization that partners visually impaired individuals with well-trained guide dogs. In addition to guide dogs, the organization provides companion and therapy dogs for children and veterans.
Brooks Labradors LLC hand raises all of its puppies for maximum socialization. In addition, the company has a veterinary screening program that helps to minimize the occurrence of a variety of genetic disorders, including Progressive Retinal Atrophy, Exercise Induced Collapse and Centronuclear Myopathy. The company also certifies the condition of their dogs' hips and elbows through the Orthopedic Foundation for Animals, and their eyes through the Canine Eye Registration Foundation.
"Our dogs are attentive Labradors that match your mood," says Brent Brooks. "Our dogs are ready to play when you're ready to play, ready to work when it's time to work and will fall asleep at your feet when you're ready to relax." -Brent Brooks, Brooks Labradors
For more information on future Brooks Legacy pups, please use our Contact Form.