NuVet Plus
 NuVet Plus® can help heal and protect against the ravages of free radicals that attack your pet throughout its life.
Click Here To Order NuVet Plus Or Call 800‐474‐7044 #19423
Free radicals are a major cause of ill health in our beloved pets.  NuVet Plus® was developed to overcome it.  Eight years of research and a team of veterinarians, physicians, pharmacists and animal nutritionists led to the finest nutritional pet supplement available.
 **Saving JUST ONE major trip to the vet could pay more than a lifetime supply of NuVet Plus®
CLICK HERE TO ORDER NuVet directly, OR CALL:  800-474-7044 (use ID Code: 19423)
NuVet Plus®
       Uses Human Grade natural ingredients (made in a human grade FDA lab)
        Contains no fillers, no artificial flavors, and no binding agents
        Is completely safe and nutrient rich
        Combats disease where it starts… from the INSIDE.
        Strengthens your pet's immune system.

NuVet Plus® can significantly reduce the risk or eliminate many problems that may strike your pet:
       Allergies
       Itching & Hot Spots
       Arthritis
       Digestive Issues
       Tumors
       Cataracts
       Low Energy Levels
       Heart Disease
…and Much More!
NuVet Plus® is the most powerful all natural supplements available, and is recommended by leading veterinarians.
This Revolutionary Natural Product is used by thousands of the nation's top breeders, groomers and veterinarians on their own dogs and cats.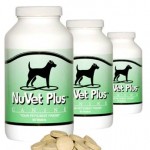 It's a Natural, Human Grade Daily Supplement…  So pure, it is one of the few pet products manufactured in an FDA (human-grade) pharmaceutical manufacturing facility.
Get your pet healthy & keep your pet healthy!
We give our dogs a Genetic Advantage… Give your puppy a Nutritional Advantage.