Lifes Abundance
Life's Abundance is a foundational element of our Nutrition Program.
Every puppy produced in our breeding program  is started on Life's Abundance Grain Free All Life's Stages Dog Food…
Prior to picking up your Brooks Labrador puppy, please order one bag of  Life's Abundance All Life Stages Grain Free Dog Food, which will help your puppy transition to your new home, and (if desired) to another ration of your choice. This is the holistic food your puppy has been started on, and a ration which we have been very pleased with.
To continue feeding your puppy this outstanding ration, we suggest you go ahead and order your first 36 lb bag directly from this link: Life's Abundance. If you choose Autoship, you will get our wholesale price. Start with a 7 week shipping frequency. You can adjust the shipping frequency at any time.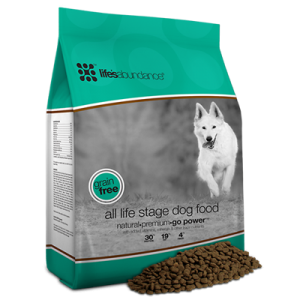 The cost per bag isn't cheap, but since you feed less per day (since it's so nutrient-dense), your cost/day is less than most Big Name/Big Hype dogs foods*.
Give your puppy a Nutritional Advantage.