Diabetes Alert Dogs
Brooks Labradors Service Dogs™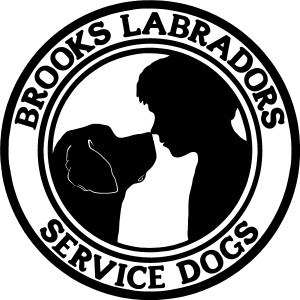 Diabetic Alert Dogs (more properly referred to as "Diabetes Alert Dogs") are trained to recognize the "out of range" blood sugar levels experienced by a person with Type 1 Diabetes, and to alert him well before a life threatening seizure or blackout.
Diabetes Alert Dogs (DADs) are a relatively new addition to the Service Dog industry and truly amazing companions. We breed and train service dogs to increase the quality of life for children and adults living with Type 1 diabetes, particularly those who experience "hypoglycemic unawareness."
Normally, a person with diabetes can feel their blood sugar dropping or spiking. They may become light headed, drowsy or experience headaches. Diabetics that suffer from hypoglycemia unawareness do not readily feel the effects of a change to their blood sugar and are therefore at a high risk for life threatening seizures and complications, especially while they sleep.
Diabetes Alert Dogs can smell a diabetic's blood sugar dropping or spiking out of range, and alert their diabetic owner/handler in advance of a crisis. DADs are trained to "alert" their owner to the onset of a change in their body's chemistry and to keep alerting them until the condition is corrected or until they receive the help they need.
What a Diabetes Alert Dog Can Do For You
Diabetes Alert Dogs can help you and your family to enjoy a higher quality of life and safety. Through intense and specialized training, your DAD will be able to "alert" you to check your blood sugar and take corrective action. Owning a Diabetes Alert Dog can help you or someone you love in many ways:
Sleep Through The Night – Your DAD can help you and your family to sleep safely through the night, knowing that your dog is trained to alert you in time to prevent insulin shock.
Live A Normal Life – Live a more normal life by keeping your blood sugar levels "in range." Your DAD can help you do this by alerting you throughout the day or night as needed, allowing you to live a longer and healthier life.
Bring Stability & Relief – Your DAD will provide much needed stability and relief to parents that have children with Type 1 diabetes. With their desire to please, strong work ethic and intense loyalty, your dog will bring you or your child the companionship of a therapy dog with the stabilizing skill of a service dog.
Gain The Comfort Of A Constant Companion – People may need personal space but dogs never do! These loving animals will follow you anywhere and everywhere you go. From early in the morning to late at night, your DAD will be an ever-vigilant friend by your side.
The Difference Between Diabetes Alert Dogs And Monitors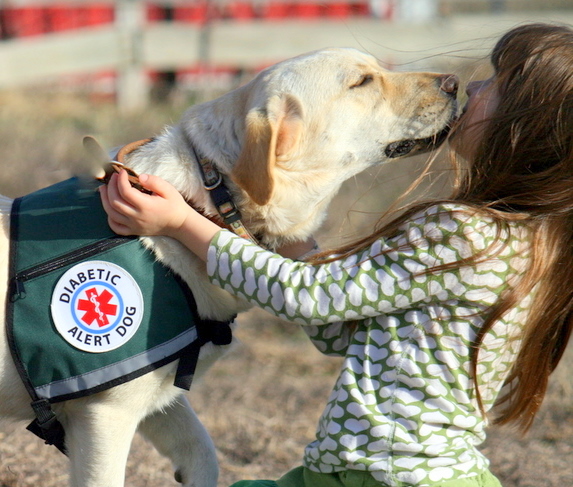 A Diabetes Alert Dog is not meant to replace a medical device like a monitor.
Diabetes Alert Dogs are a living supplement to an existing diabetes management program.
DADs enhance the safety and quality of life of people with Type 1 diabetes who don't sense the symptoms of a low blood sugar event.
Unlike monitors, a Diabetes Alert Dog's "batteries won't wear out." DADs are "on duty" all the time and are bred for this life mission. Properly trained DADs alert you BEFORE a dangerous change in blood sugar occurs.
These dogs will persist in alerting a person until they wake up and take corrective action or until they get the help they need. Many people can sleep through a monitor's beeps and alarms, especially as they become accustomed to a particular digital tone (much like sleeping through an alarm clock). It is much harder to sleep through the physical nudges and urging that our DADs are trained to do.
The BLSD Board & Train DAD Model™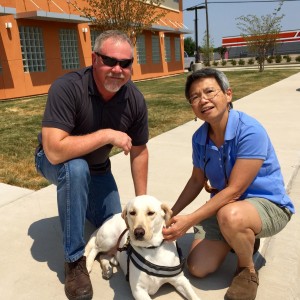 Brooks Labradors Service Dogs (BLSD) is currently offering our Board & Train DAD model. With this model, you can either purchase a Labrador retriever puppy from our genetically sound bloodlines (with a health guarantee and limited AKC registration), or you can provide an appropriate dog whose aptitude we would evaluate for service. Our service dog puppies are $3,000. We as for a 50% deposit to reserve one, and the balance when training begins.
From that point forward, we work with you as your trainer/consultant, and we train your dog on contract on a board & train basis at a rate of $120/day. We offer training in "board & train cycles," training your dog for several weeks, then sending your dog home with "homework," teaching you the drills you'll need to continue in order to maintain the progress your dog has made here.
This is a personalized program, tailored to the client's specific needs, schedule and budget. So when the timing is good for you (with your schedule and finances), we recommend bringing your dog back for another board and train cycle, during which your dog will advance through the next several progressions.
We provide a tailored plan for each dog that includes obedience work, scent work and public access work.
**It is important to note that this program requires significant commitment on the part of the owner. **
Note that we are not selling you a "finished Diabetes Alert Dog." We are selling you a genetically sound,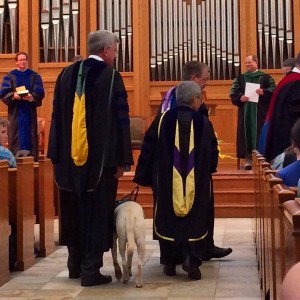 selectively bred puppy suitable for service work.
From that point on, we make our training services available to you on a contractual "pay us for our time" basis. It is up to you, the client, to be consistent with your at-home training drills, and up to you to commit to our suggested training protocol to ultimately train a successful Diabetes Alert Dog.
Note: You may begin or cease training with our company at any time. Furthermore, we have no control over your consistency in following our suggested owner-conducted drills or adherence to our protocol. Consequently, Brooks Labradors LLC/Brooks Labradors Service Dogs shall not be held liable for the ultimate success or failure of your dog as a Diabetes Alert Dog.
Our top priority is matching the right dog with the right owner/handler at the right time. Not every dog is suitable to be a DAD… And not every person with Diabetes is a good candidate for a DAD. So we are just as diligent in screening candidates as we are in selecting a puppy from a specially bred litter.
We are one of the few DAD Trainers who are also professional breeders. As a DAD Breeder/Trainer, we selectively breed puppies with temperaments suitable for Service Dogs use. From those special puppies, we then select puppies for our Diabetic Alert Dog program who demonstrate the greatest aptitude for DAD service. Breeding and training the most suitable puppies shortens the learning curve and maximizes training efforts.
NOTE: At this time insurance companies do not cover the cost of a DAD. However, our company would be happy to work with families regarding fundraising for their DADs.
We selectively breed AKC registered Labrador Retrievers to have the qualities that make an ideal Service Dog and specifically a Diabetes Alert Dog (DAD). Our puppies are sought by major service dog schools across the country, and we provide stud service (collect & ship semen) to Southeastern Guide Dogs in Palmetto, Florida.
There are no shortcuts to training a Service Dog
Dallas NBC5's Investigative Team shows why:

Can your own dog be trained as a Diabetes Alert Dog?
Maybe... Not every dog has the work ethic, eagerness to please and the scenting ability to serve as a DAD. Additionally, service dogs must meet a very high standard of obedience to be allowed public access. If desired, we can assess your dog's aptitude for DAD training.
We do offer obedience training and scent training on monthly contract "board & train" basis. CONTACT US for more information.
Need DAD training advice?
If you already have a Diabetes Alert Dog, or are training a DAD, and are at a sticking point and need some advice, book a personal consultation with BLSD's owner/head trainer Brent Brooks.
Brent is available for phone/FaceTime/Skype consultations for $100/hour. He can watch what you're doing with your dog and offer feedback, or demonstrate progressions with dogs we're training via FaceTime or Skype.
For further information and help with DADs training in the area, please Contact Us.
Are you having issues with Diabetes Alert Dog you bought from somebody else?
Give us a call. Maybe we can help. We've helped some folks with a couple hours of training. We've remediated other dogs with a couple months of our Board & Train program. CONTACT US for more information.