Daniel Hect to interview Brooks Labradors about "Puppy Cam" Madness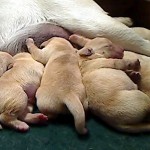 Las Vegas, NV – 12.2.2011 – Daniel Hect will be co-hosting "Barking up the Wrong Tree" on KLAV AM1230 on Friday at 12:00 p.m. One of this week's guest will be Brent Brooks of Brooks Labradors who recently welcomed a new litter of pups and in doing so launched the "Brooks Labradors Puppycam" via UStream. Viewers can watch the new litter 24/7 at
http://www.ustream.tv/channel/cadence-x-abby-puppies.
"The camera is on 24/7 except when we have to change out puppy pads. Sometimes you can only see the Mothers back but at times the full litter is in action and of course we get a lot of hits. We've had as many as 900 viewers in a day " – Brent Brooks, Brooks Labdradors
Brooks Labradors was recently named December 2011 Breeder of the Month by BreedersUSA. "Barking up the Wrong Tree" is a weekly radio program co-hosted by Hect and David Michelangelo that discusses dog training, health and behavioral issues.
Daniel Hect is a well-established breeder and trainer of German shepherds. He is also an experienced Schutzhund (protection dog) trainer and has trained dogs for several law enforcement agencies around the country. Hect helped to found BreedersUSA in 1999 and serves as its president. He is also the CEO of the Martial Arts Masters Hall of Fame and a multi-discipline black belt.
David Michelangelo has worked with both domestic and wild animals during his career as an animal handler. As a master dog trainer in Las Vegas, Michelangelo works with a wide variety of breeds. In addition to his animal experience, he is a former kickboxing champion.
BreedersUSA is an online pet community, now in its 12th year, that provides comprehensive listings of American Kennel Club-compliant dog breeders. Each month the organization chooses a breeder as its Breeder of the Month. Daniel Hect, President of BreedersUSA and a top breeder of German shepherds, has final responsibility for the choice.
Brooks Labradors LLC is a family-owned business that breeds top-quality Labrador retrievers in the rural Dallas, Texas, area. The company focuses on breeding what it calls "True Retrievers with a Classic Build." Brooks Labrador retrievers are known for being well-balanced companion dogs with exceptional temperaments.
For more information on "Barking up the Wrong Tree," visit the KLAV website at http://www.klav1230am.com/Shows/BarkingUpTheWrongTree.html. For more information about BreedersUSA, visit their website at http://www.breedersusa.com/. Learn about featured guest Brent Brooks and Brooks Labradors at www.brookslabradors.com. For media inquires, please contact Kamatoy Media Group at 619-940-5648 or press@jugglemail.com