Firehouse's Money to Burn "Dollar"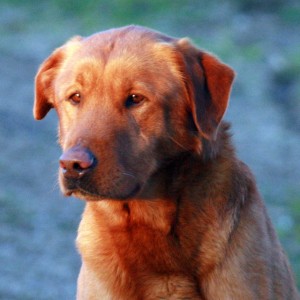 Color: Yellow ("Fox Red"; carries chocolate)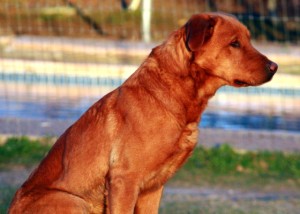 DOB September 24, 2008
CHIC: 70921
PennHip: #887066 (.35 top 90%)
OFA Hips: LR-191003G26M-VPI
OFA Elbows: LR-EL49751M26-VPI
OFA Patellas: LR-PA434/26M/P-VPI
OFA Shoulders: LR-SH211M26-VPI
CERF: #LR-54390/2012
CNM: LR-CNM49/2M-PI
EIC: LR-EIC439/4M-VPI
Optigen PRA: LR-PRA802/41M-VPI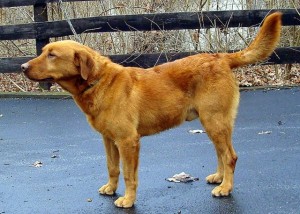 RD/OSD: LR-RDY92/41M-VPI
AKC DNA: #V652008
Dollar follows in the pawprints of his famous sire, "Copper." Dollar is a welcome addition to our stud team, with a wonderful outcross pedigree, packed full of intelligent, sound, hard-working retrievers. 
He is ready to work, affectionate, non-aggressive and eager to please. These are great traits for service dogs, who require a strong work ethic and easy-going disposition.
He is a proven producer of top performance dogs, including many with his beautiful fox red color.  
With his robust field pedigree, natural scenting ability and medium-energy, easy-going temperament, Dollar has produced a number of remarkable Diabetes Alert Dog puppies. 
Pedigree for:  Firehouse's Money To Burn (call name: "Dollar")
FC AFC CFC Money Talks II

Color: Fox Red carries chocolate

FC Running with the Devil (Byc)
FC AFC Dare To Dream (By)
FC AFC Wilderness Harley To Go (By)
FC AFC Itchin' To Go (By)
AFC Black Gold's Candlewood Kate (Y)
FC AFC Fishtrap Aggie (B)
FC AFC Trumarc's Hot Pursuit (B)
Tory's Queen Bee (B)
FC AFC Trailcreek Blue's Dacey (Byc)
FC AFC GMHR, WRCedar Valley's Hi-Bird Turk MH (By)
AFC Westwind Pedro (By)
GMHR Mississippi Molly MH
GMHR Beavercreek Stukagin Blue (Bc)
82 NAFC, 82 CNFC, FC Piper's Pacer
Girl of the North [C]
AFC Winifox Penny from Heaven (Y)
FC AFC Riparian Roughrider (Y)
FC AFC CFC Sandy's Slew Man Too (By)
FC AFC Itchin To Go
Swift Creek's What's Cookin' (B)
FC AFC Del's Hi Kasie (Canada) By
84 NAFC, FC Trumarc's Zip Code (B)
CFC CAFC Del's Hi Ginny (Canada) (By)
Winifox Mollie McStarr (Y)
FC AFC Lone Star JR II (By)
FC Shotgun Smokey (B)
Varner Creek Mae (Y)
Winifox Mindemoya (By)
AFC Westwinds Pedro (By)
Big Rivers Lil Monster (B)

River Creeks Foxy Paige

Color: Fox Red

FC AFC Teddy's Ebonstar James (Y)
2xNAFC, 2x CNAFC, FC AFC Ebonstar Lean Mac (By)Top producing field sire
87 CNFC 92 CNAFC Waldorf's High Tech
CFC Rascal's Super Spud (By)
Itch's Flying Tiger (by)
Ebonsacre Princess WCX (B)
Trieven El Conquistador  (B) Canada
Skookum's Sky Raider (B) Canada
HRCH South Hills U Gotta B Kiddin MH (Y)
FC AFC Riparian Roughrider (Y)
FC AFC CFC Sandy's Slew Man Too (By)
FC AFC Del's Hi Kasie (Canada) By
HRCH Candlewood Black Gold Brooke MH (By)
FC AFC Candlewood MD Houston (Y)
FC Candlewood Wilderness Brooke MH (By)
Grassy Creek Magic Maggie MH (Y)
FC AFC Calumet's Super Sonic (Y)
FC AFC Calumet's Sonic Boom (By)
FC AGC CFC CAFC Jazztime MH (B)
Canby's Magic Spell (By)
FC AFC Scan's in the Nick of Time (By)
FC AFC Sky Watch Scanner (By)
Goose Down Hannah Honey MH (B)
Grassy Creek Casey MH (Y)
FC AFC Cornerstone Wizard of Oz (By)
Excalibur VII (Y)
Ms Delta Dash (Bc)
Sadie Golden Girl IV (Y)
Max's Black Bentley (By)
Hoodville Jinger (By)